Events not to be missed benefiting our partners, Broadway, and the LGBT community.
BROADWAY CARES/EQUITY FIGHTS AIDS WHAT WE DO TOGETHER, MAKES A DIFFERENCE
Deconstructing Patti
It brings us together to share food and experiences and creates connections among generations.
Break Bread, Make Connections
Lance Bass, Chaz Bono, Mario Cantone, Andy Cohen, Whoopi Goldberg, Judith Light, Jane Lynch, Janet Mock, Sarah Paulson, Zachary Quinto, Sia, and Holland Taylor want YOU to BE SAGE.
It starts with a meal. It's called SAGE Table, and it's happening on May 18.
SAGE fights for LGBT elders, and there is a missing link: YOU.
In its over 30 years, AIDS Walk New York has inspired nearly 890,000 people to walk and millions more to donate, raising nearly $150 million to combat HIV and AIDS.
---
Sage Spring Event – May 24th
May 24, 2017
Chelsea Piers, Lighthouse
New York, NY

EVENT DETAILS
SAGE & Event Co­-Chairs Doug Harris, Tami Hausman, Daniel Nardicio, Richard DesJardins & Nick Politis invite you to the 25th Annual Fire Island Pines Celebration! 225 Bay Walk
Saturday June 3, 2017 4PM to 6PM
HONORING:
2017 Doris Taussig Award for Community Service: Randy Wilson
2017 Icon Award:  Barbara Sahlman
A special acknowledgment to all previous honorees honored by SAGE
Please Join us for JED's Annual 
Gala!
Monday, June 5 2017


Cipriani Wall Street, NYC
JED's Gala celebrates individuals and organizations who use their voices, talents and resources to prevent the devastating impact that mental illness, substance abuse, and suicide have on our families, schools and communities.
Purchase tickets or tables online here or call 212-647-7544.
Please Join Us for the 17th Midsummer Night Drinks hosted by Calvin Klein at his home in Southampton on Saturday, June 10, 2017 from 6pm to 9pm. With your support, we are looking forward to a very special evening.
Sunday, June 25, 2017, 8:00 pm
Music Box Theatre
239 West 45th Street
New York, NY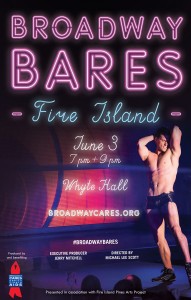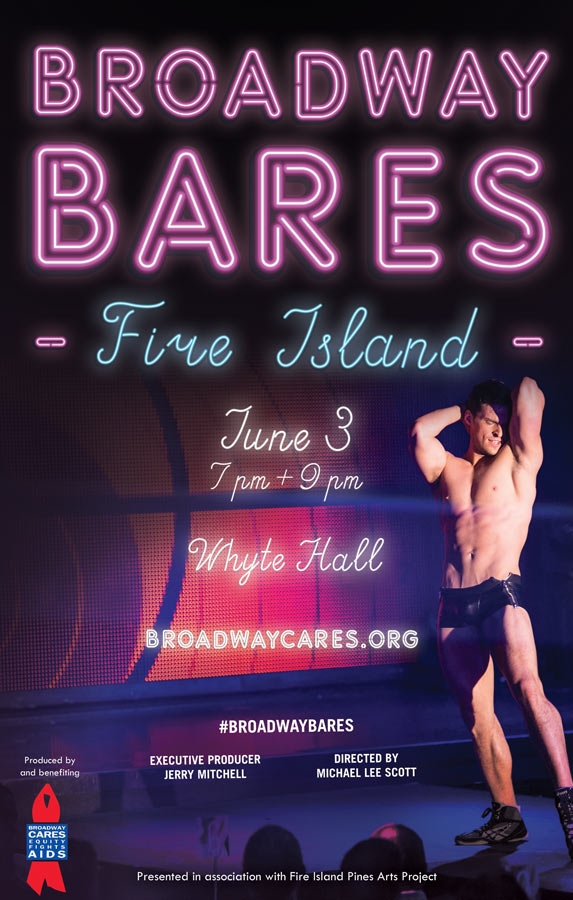 Saturday, June 3
7 pm & 9 pm
Whyte Hall's Brandon Fradd Theater
Fire Island Pines, NY

Fire Island will sizzle with handsome hunks, alluring women and the sexiest striptease show of the summer when Broadway Bares returns to Fire Island Pines.
This year's playlist-inspired Broadway Bares Fire Island will be set to a sultry and sensual soundtrack of pop hits. Tantalizing talent straight from Broadway is sure to strike a chord with the fun-loving Fire Island audiences.
Created exclusively for Fire Island by director Michael Lee Scott, this intimate adaptation of the annual New York City extravaganza Broadway Bares will feature Bares dancers performing dazzling production numbers on a runway jutting into the audience. No seat is more than 40 feet from the stage. The show will be followed by Bares' signature "rotation," where the performers step off the stage to freestyle dance for cash donations.
All tickets to Broadway Bares Fire Island include free specialty cocktails on the Albert Lepage Pavilion at Whyte Hall 30 minutes before curtain. Ticket prices are $95, $150 and $225. Also available is an exclusive "Walk-on Stripper Spectacular" package, which includes an onstage – fully clothed – appearance during one of the shows, rehearsal, dinner and photos with the cast and four premium seats at either show, plus two VIP General Admission tickets to Broadway Bares in NYC.
Tickets are available now to the 7 pm show and 9 pm show. Beginning May 20, they also will be sold in the Fire Island Pines harbor on Saturdays and Sundays 11 am to 1 pm. The evening is produced in association with Fire Island Pines Arts Project.
Broadway Bares Fire Island is a steamy tease for Broadway Cares' immensely popular Broadway Bares, the unrivaled evening of modern-day burlesque production numbers. This year's 27th edition, Broadway Bares: Strip U, will take audiences to the only campus where clothing is optional and seductive striptease is always in the curriculum. Learn more about Broadway Bares: Strip U.
July 14-16, 2017
Fire Island Pines, NY
Fire Island Dance Festival returns this summer to bring unforgettable dance and an incomparable weekend of culture to Fire Island Pines.
The festival continues to be one of the most anticipated charitable events of the Fire Island summer. Since its first edition in 1994, Fire Island Dance Festival has raised more than $4.8 million. Through their generous support, dance festival attendees have helped ensure that those in need throughout the New York City area and in all 50 states receive lifesaving medications and health care, nutritious meals, counseling and emergency financial assistance.
This year's festival will feature an acclaimed lineup of international dance companies and performers from a variety of styles. Performers and choreographers will be announced in May.
Tickets are now available. Saturday and Sunday 5 pm tickets start at $150, and the Saturday sunset performance at 7 pm starts at $350. Special VIP daytrip packages for the Sunday, July 16 performance include luxury round-trip transportation from midtown Manhattan and a pre-show champagne luncheon, all for $275 per person.
Cycle for the Cause is a bucket-list-worthy experience.
Every September hundreds of people just like you – from all walks of life and all corners of the globe – gather for The Ride.  Over the course of those four days we stay stay in hotels together, eat meals together and make memories together as we ride our bikes 275 miles from Boston to New York, passing through more than 50 cities in between – all to raise money and awareness in the fight to end HIV/AIDS. And when it's over a group that arrived as hundreds of strangers departs as friends.
And don't worry: It's also fully supported.
That means you're completely taken care of along the way: Comfy hotel rooms, delicious meals, transportation from New York to the starting line, bike shipping, tons of super fun Rest Stops every few miles, and even massages! We've got 22 years of Northeast AIDS Ride history under our spandex, so we've got you covered!
But the Cycle for the Cause experience extends way beyond The Ride, and it starts right now! All you have to do is register, and you'll find an entire community to help you conquer your training, blow past your fundraising goal and – best of all – meet amazing new friends.