Wednesday 8 November 2017
| | |
| --- | --- |
| Contents | |
HIV diagnoses fall sharply in England: why?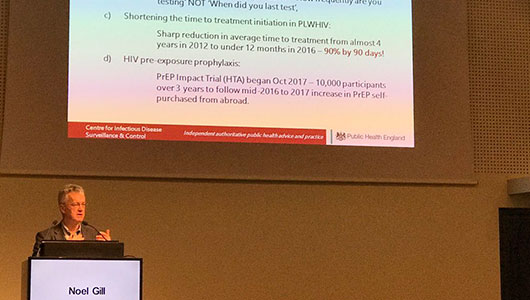 Noel Gill presenting at EACS 2017. Image credit: @caryjameslondon
HIV testing behaviour and treatment uptake are changing rapidly among men who have sex with men in some European countries, leading to new opportunities to reduce HIV incidence, the 16th European AIDS Conference (EACS 2017) heard last month in Milan.
Changes are occurring as a result of greater promotion of HIV testing, greater use of new technologies for HIV testing such as self-sampling, earlier treatment and a more widespread awareness that undetectable viral load makes a person uninfectious.
One of the earliest documented shifts has taken place in England, where surveillance has shown a dramatic reduction in HIV infections in men who have sex with men since 2014.
Dr Noel Gill of Public Health England told the conference that HIV diagnoses have fallen by 65% in London and by 48% outside London from their peak in 2014.
Dr Gill said the three most important factors contributing to the observed decline were:
A 50% increase in STI clinic attendance in gay men since 2011
An increase in the frequency of gay men's HIV testing, with the average now 2.5 tests a year
90% of those diagnosed with HIV start treatment within a year of diagnosis.
He said that a new 90-90 target could drive down the number of new infections even further, if 90% of people diagnosed with HIV started treatment within 90 days of diagnosis.
The conference also heard about how London's busiest sexual health clinic has transformed its services in recent years to greatly increase HIV testing capacity and encourage a culture of regular sexual health screening.
A shift away from consistent condom use in Swiss men who have sex with men appears to correlate with the emergence of new information about HIV transmission risk, undetectable viral load and the effectiveness of pre-exposure prophylaxis (PrEP).
Switzerland was the first country to translate scientific evidence about the impact of undetectable viral load on sexual transmission risk into advice for doctors and people with HIV. Swiss experts said in January 2008 that HIV could not be passed on during sex by people with undetectable viral load who have no sexually transmitted infections.
A study of condom use in men who have sex with men in the Swiss HIV Cohort shows changes in condom use after 2008, with further changes after the first results of the PARTNER study and the PROUD and Ipergay studies became known.
Just because a partner has undetectable viral load, it doesn't rule out the need for PrEP or PEP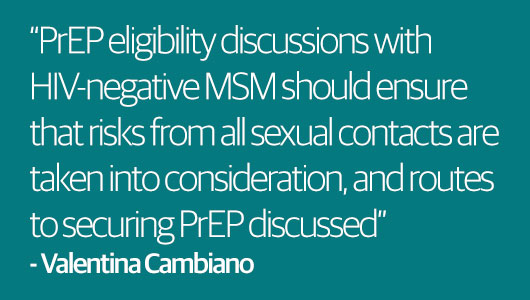 HIV incidence among the HIV-negative gay men in the PARTNER 1 and 2 studies, due to sex with partners outside the main relationship, was high, and very high in partners who reported having condomless anal sex with non-primary partners, the conference heard.
PARTNER made headlines when in 2014, and again in 2016, the researchers confirmed that there had been no transmissions from an HIV-positive partner who was on antiretroviral therapy and virally suppressed in, by 2016, an estimated 58,213 condomless sex acts. These data allowed the researchers to establish the maximum possible likelihood of transmission, and to announce that, most likely, the chance of an HIV-positive partner with a fully suppressed viral load of below 200 copies/ml passing on HIV was zero, or statistically indistinguishable from it.
PARTNER, and other studies like Opposites Attract and HPTN 052, have provided the evidence base for the success of 'Treatment as prevention' and for the U=U (Undetectable = Untransmittable) campaign.
However, there were HIV infections in PARTNER: eleven of them by 2016, ten in gay men. In all cases, however, phylogenetic testing showed that the infecting virus came from someone other than the primary partner.
Levels of post-exposure prophylaxis (PEP) and pre-exposure prophylaxis (PrEP) use in HIV-negative study participants were very low despite the fact that around one-third reported condomless anal intercourse with someone other than their main partner.
Presenting the results, Valentina Cambiano of University College London commented that the low level of PEP and PrEP use and the high HIV incidence seen from sex outside the main relationship were of concern.
"PrEP eligibility discussions with HIV-negative MSM [men who have sex with men] should ensure that risks from all sexual contacts are taken into consideration, and routes to securing PrEP discussed," she added.